We'd appreciate your help!
Our online resources were developed to be used by anybody free-of-charge, however, prior to unlimited downloads we would appreciate the following information regarding their intended use. If you are happy to be contacted, please provide your details at the bottom of this questionnaire. Your personal details may be used to contact you regarding your experience of A Germ's Journey Educational Resources and/or send updates about the project. Your details will not be passed on to any other parties. Thank you for taking the time to fill this out.
Learning Resources include free downloadable: posters, parent guides, songs and colouring sheets in a variety of languages and cultural contexts so that all children can receive health-hygiene education. Once you have used the resources, please visit our Be Part of the Project page and fill out the short questionnaire. This is vitally important for our project and will help us to develop more resources in the future.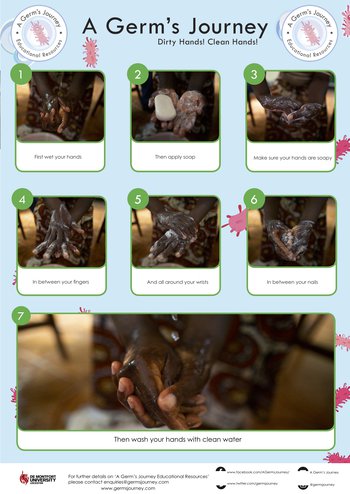 Africa Handwashing Poster - English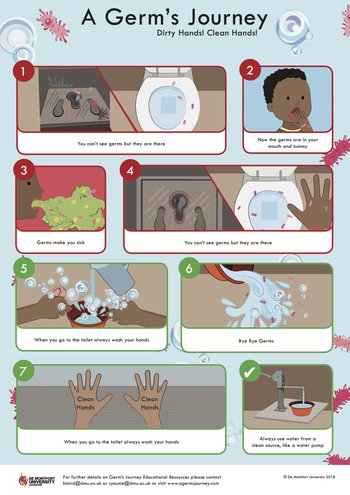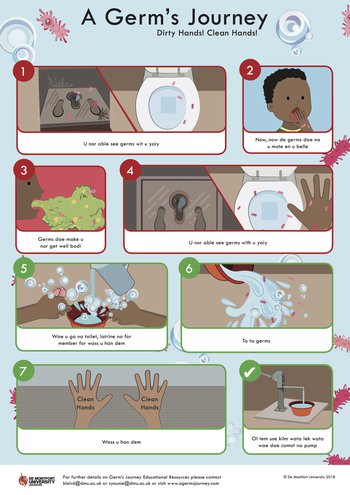 Handwashing Song at UNIMAK, Sierra Leone